With more urban children raised in concrete jungles like Kuala Lumpur, it doesn't come as a surprise that many kids prefer to stay indoors or are hesitant to sample Mother Nature.
But before you plan on taking your kids camping, why not get them to have a taste of outdoor fun first? Here are three suggestions to do just that.
Visit an outdoor-themed children's park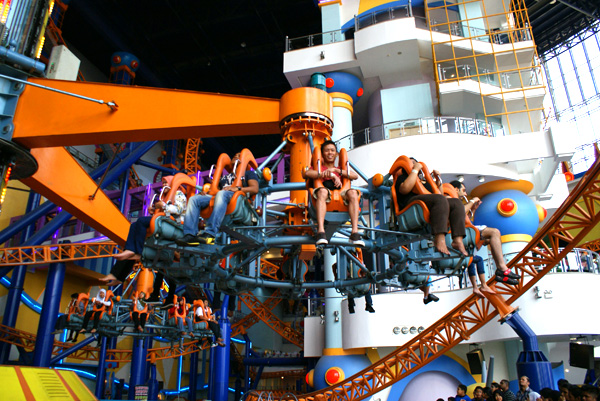 There are plenty of options in KL for a quick weekend getaway in a children's theme park. The Petrosains Discovery Centre at KLCC and KidZania KL are two unique examples of "edutainment" centres that offer many indoor activities for kids.
The first is science-based and revolves around Malaysia's petroleum industry. Your kids can experience the vacuum of outer space and even feel the thrill of riding a virtual helicopter to an oil rig.
KidZania is a miniature "kid-sized" city, where children can live the life of more than 90 actual professions. Let them put out fires as a fireman or pull teeth as a dentist. Maybe their ambitions can start from here!
Start a small indoor garden
One of the easiest is to try growing bean sprouts or "tauge" as these are almost maintenance-free and produce results quickly. Just fill about a fifth of a glass jar with mung beans and then fill with water. Tie a piece of cloth over the jar with a rubber band and leave it to soak away from sunlight overnight (up to 12 hours).
Next, drain and rinse the beans before leaving them in the jar with cloth covered in a dark place. Every six to 12 hours, repeat the rinse and drain until the sprouts have reached desired length. The idea is to keep the beans moist without being waterlogged.
You can even use different beans (mung beans, soya beans and even lentils are suitable) for each child so they can see the different types of bean sprouts!
Get a bug box for your home
A good option if you're not afraid of catching bugs!
Pet stores these days sell bug boxes made of plastic with breathable covers. You can fill them with twigs and leaves from outside to prepare for any bugs that venture into your home such as moths or lizards.
Let your kids observe it and take photos for their IG before releasing. Ask them to look up the bugs on the internet and read up interesting facts about them.
Hopefully, these small doses of the world outside the house will entice your children to take bigger bites out of the outdoors.