Malaysia is both a tropical paradise and a developed country. It's also a rich mix of cultures: Malay, Chinese, and Western. As such, it's a good place to visit when it comes to a couples getaway, or for singles and whole families. There's something for everyone. Here, we list the 5 top hot spots to visit while there. 
1. Langkawi Islands
This archipelago is located about 30 km (18 miles) off the mainland coast. This island is easily accessible from Kuala Lumpur by air. There are ferries going as well. It has many tourist attractions with well-developed infrastructure. Many visitors like to take Langkawi Cable Car for astounding panoramic views. The beachgoers and those who like to party will not be disappointed there.
2. Tioman Island
This island is actually located close to Singapore. This makes it an attractive location for those visitors who don't have enough time to venture too far into Malaysia. This is a place of natural beauty, while being not that developed. It's a good place to find a romantic hotel. Activities such as snorkelling, boat rides, and jungle hikes are accessible from there.
3.Cameron Highlands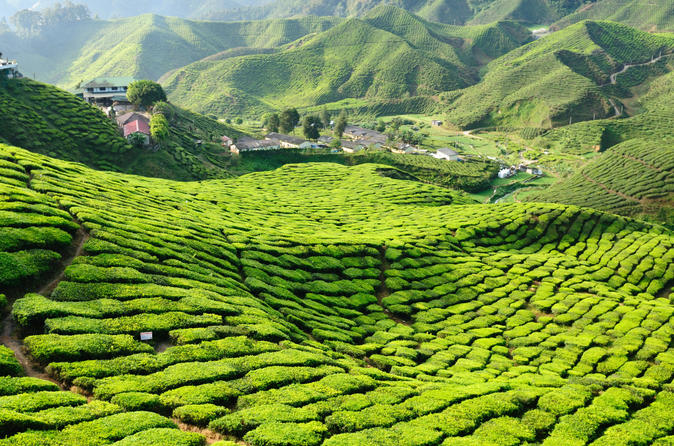 The beaches in Malaysia are fantastic, but there are many other natural wonders to be seen while there. Cameron Highlands are located about 200 km (120 miles) north of Kuala Lumpur. This is a great place for trekking amidst tea plantations, while enjoying cooler temperatures in these highlands.
4. Malaysian Borneo
Malaysia is actually separated by the sea into eastern and western parts. To the east, there's Borneo Island, which is actually split among Malaysia, Indonesia, and Brunei. This is the place where tropical rain forests and high mountains are found. Parts of Malaysian Borneo are so serene that you'll feel being far away from civilization.
5. Malacca
Malacca is a historic city located about 150 km (90 miles) south of Kuala Lumpur. It is actually possible to take a day trip there, but if you have spare time, it's worth staying there a bit longer. Malacca is a city with rich history since its control switched among the European powers back in the colonial era. Once you go there, you'll get to see some beautiful European architecture.
Malaysia is an amazing country to visit as it offers lots of variety. If you're budget conscious, no problem, as there are many low priced hotels. For those visitors looking for more luxury, finding a reasonably priced 5 star hotel in Malaysia will not be a problem, too.